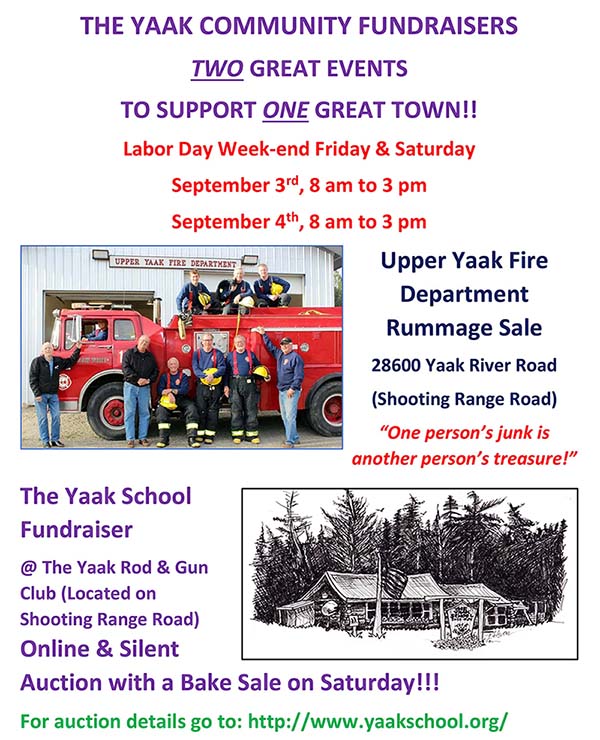 The Yaak School is having its annual fundraiser this year. We had to change the format and location because the Yaak School is undergoing construction for a new foundation. There has been a lot of heavy repair work happening during the summer and currently is still in progress. Therefore, the fundraising committee has decided to have a silent auction only. The dates for the silent auction are September 3rd and 4th, the same day as the Upper Yaak Fire Department Rummage Sale. Hours for both are 8:00 a.m. to 3:00 p.m. The location for the Yaak School Silent Auction is the Yaak Rod and Gun Club located on Shooting Range Road.
We know this past year has had its challenges and many things have changed, so its with hand on heart that we respectfully request the community's help again by donating items for the auction. Many of you have been so generous in past years, we hope you can support us again either by donating items for the auction or stopping by to bid on the items we will have available. In addition we will have a bake sale on Saturday put on by the Yaak Valley Women's Club!
Here's how you can donate items:
Drop off items to the Yaak School Temporary Clerk's office located at 29893 Yaak River Road, Troy, MT 59935 Monday through Thursday, 9:00 a.m. to 3:00 p.m. Drop off dates are August 20th through 27th, however late donations will be accepted up to September 2nd. Also, since the drop off days and times may not necessarily be convenient, contact the Points of Contact listed below to make other arrangements. Though not necessary, we'd appreciate it if you can attach your name, phone number, address and description of the item(s) so we can properly display it and contact you with any questions. We will not share your information with anyone else!
As to the silent auction itself:
We hope to make it as easy as possible to place bids either in-person or remotely via telephone, Facebook, and email. You will also be able to leave a proxy bid using any of these methods. Simply let us know what your top dollar is and we will bid for you up to your top amount.
As we receive items, we will post them onto Facebook and the Yaak School website. The website will be for viewing only and will not be an avenue for bidding, as we don't have access to immediate changes. That is also why the sooner we receive donations, the better chance to have pictures posted on the website. Late donations may not be posted on the website, but all will be posted onto Facebook. No items will be posted on email.
Bidding can start via Facebook, telephone, and emails (listed below) August 28th through the end of the auction September 4, 2021, at 3:00 p.m. In-person will be limited to September 3rd and 4th. Methods of payment will be cash or check only. We will routinely update the highest bids on Facebook so you can gage the bidding. If you don't have Facebook, you can contact us for updates.
Methods and Points of Contact are:
Facebook: Yaak School Annual Arts and Crafts Fair, use for viewing and bidding
Email: yaakteacher@yaakschool.org, use for bidding only
Sabre Alderete cell phone: 406-426-4104, use for bidding starting August 28th
Angelo Alderete cell phone 406-426-4093, main point of contact for donations and general questions
Yaak School: 29893 Yaak River Road, Troy, MT 59935, main drop off location
Yaakschool.org: You're on it
Lastly, we hope you enjoy the two great events happening in the Yaak September 3rd and 4th. We appreciate your support and look forward to seeing you soon!